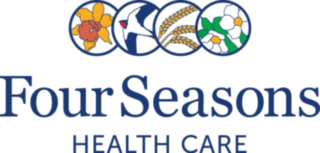 Registered Nurse - RGN/RN
Four Seasons Health Care
Banbridge, Co Down

Permanent
Full-time
To join us as a Registered Nurse you will need to have a current NMC registration and a good knowledge of the most up-to-date clinical practices. Within our care homes, we are looking for Nurses with a passion for enhancing the quality of life, experience of producing well-developed care plans and detailed risk assessments, with an understanding of regulatory frameworks.

Seapatrick Care Home, 80 Lurgan Road, Banbridge, County Down, BT32 4LY

You'll find Seapatrick Care Home is a purpose-built home set in a quiet village located just outside of Banbridge. We are also close to local transport links, making us easily accessible for visitors to pop-in for a chat.

Our Care team offers nursing care for people who have complex medical conditions and for those living with dementia . We also provide respite care to give family or friends a well-earned break.

Our dementia care is accredited as part of Four Seasons Dementia Care Framework.

Qualifications & Accreditations Registered Nurse Qualification with a valid NMC PIN

Duties/Responsibilities
Leading a team to ensure the highest possible standards of care
Assessment of residents' needs, creating and implementing Care plans
Developing, reviewing and updating care plans to meet resident's physical, social and psychological needs, whilst still championing independence and personal choice
Maintaining accurate documentation and resident records.
Oversee all aspects of medicine management on your shift in accordance with company policies and current legislation.
Ensure compliance with all legal, regulatory and best practice guidelines – identify, investigate and resolve risks proactively.
Support, guide, teach and mentor others in line with the NMC Code, following its guidance at all times.
We offer a great range of benefit's, which include

Welcome Bonus of £1500* paid in two installments, after 3 and 6 months
Recommend a Nurse Scheme of £1000*
Dedicated Training and Support
Company Pension Scheme
Friendly Working Environment
Free Enhanced police Check and uniform
Internal Progression
Full time and part time opportunities
Subject to terms and conditions*
Registered Nurse, RGN, RMN, RNLD, Staff nurse, nursing home nurse, nursing home, elderly care, care home, care home nurse, adult nurse, student nurse, staff nurse, peripatetic nurse, band 5 nurse, ward nurse, RN, sister, ward sister, band 6 nurse, clinical lead, ward manager.

Job Medic